Available from version 1.1.0
Bloxby allows Administrators to add, edit and remove full page templates (a full page template is a number of blocks combined into a single page). These page templates can then be made available to end-users allowing them to create pages and sites even faster.
There are two methods for creating page templates:
Directly from the page builder and
Using the Templates section
1. Directly from the page builder
Whenever an Administrator is working on any page or site in the page builder, the current page can be saved as a template by clicking the little dropdown arrow next to the button labeled "Nothing to save" or "Save now (!)". This will reveal another button labeled "Save page template". Clicking this button will save the current page as a page template.
When using this method, you will not be able to add the new template to a template category. To add the new template to a category, you will need to use the Templates section.
Please note that creating page templates from within the page builder is a "legacy" feature and is likely to be removed in the near future in favor of creating and managing page templates using the Templates section.
2. Using the Templates section
As of version 1.10.0, Bloxby has a dedicated Templates section which is available for Administrators. This Section allows them to manage template categories and as well page templates.
Managing template categories
To manage the available template categories, click the link labeled "Manage template categories" in the Templates panel. This will bring up a modal window which can be used to add, edit and delete categories. When deleting an existing category, the Administrator will have the option to assign templates currently assigned to the category to be deleted to another category.
Managing page templates
A new template can be created by clicking the green button labeled "+ Create template". This will launch a simplified version of the Bloxby page builder allowing you to drag and drop blocks to create a template. While in the page builder, you can select a template category to save this template in: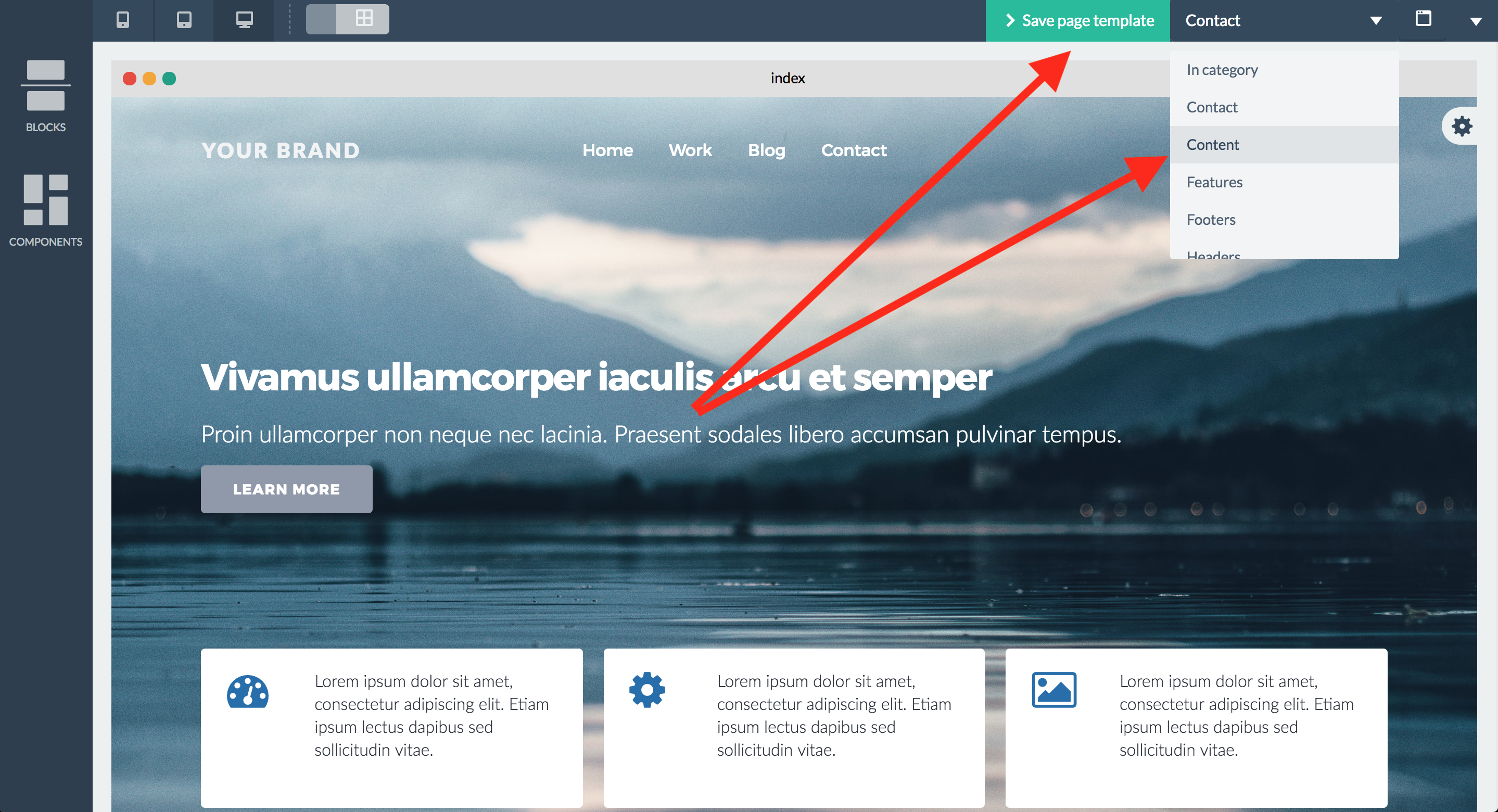 Templates can also be saved without being in a specific category.
While on the Templates panel, templates can be moved to another category by using the category dropdown for that specific template as shown here:
Making page templates available to end-users
By default, page templates created by Administrators are not (yet) available to end-users. To make one of more page templates available to end-users, these templates will need to be activated in the subscription package to which the end-users have subscribed: page templates access is determined on a per package basis. To learn more about managing subscription packages, please read this article.